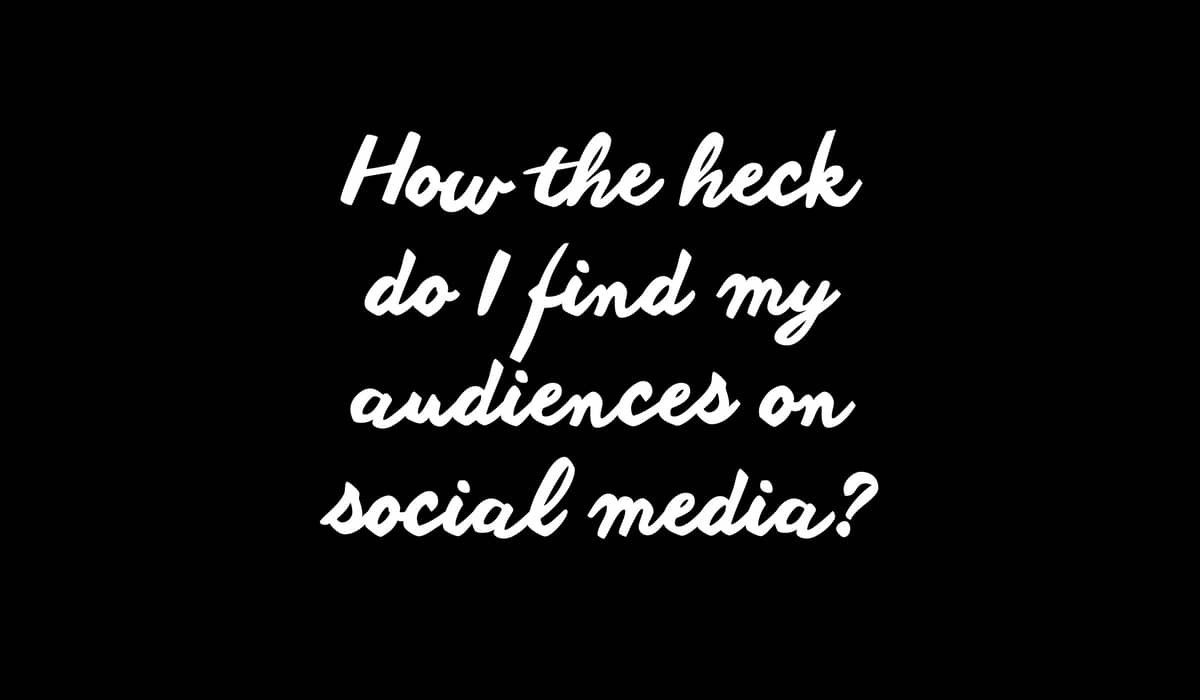 Last week, I ran a couple of pop up sessions in the Simply Smart Social Facebook group, to help guide the lovely members through some key lessons from my Simply Smart Strategy Workbook. One of those was 'How to find your audiences on social'. This was quite popular so here's a quick roundup of what we discussed.
Uncovering your target audience is the starting point to building your strategy. Before you start thinking about what you need to achieve with social media, you need to understand WHO you need to connect with to help you to achieve your goals. Once you've done this, you need to identify WHERE they are. This will help you to understand where you should be online.
Here are some of the questions posted in the group, a few really great topics came up:
Facebook is relatively easy, because we're all in similar groups – but what about Twitter? What's the best way to connect with people over there, what with all the noise and traffic?
Before you head over to Twitter, be really clear who your audiences are. What are their interests? What are their job titles? What do they read, watch etc? This may not simply be the people you sell to. Think about others that could influence those you want to sell to. Your objective is to grow your brand amongst those people, by providing help and value, and becoming the go-to person in your industry.
Growing a relationship with people that influence your ideal customer can really help as having someone influential promote you gets much better than results than simply promoting yourself to these people. Create a spreadsheet, list each relevant audience, their job title, interest, location and anything else that helps you to identify and understand them.
Once you're clear on this, head on over to Buzzsumo and use the keywords from your spreadsheet to find influential people on Twitter. Follow these guys and then have a look at what lists they're on, or have created. Follow these and dig into them – you'll find a bunch of relevant people here to connect with. You can also look at who is following these guys, there will be a bunch of people here for you.
[Tweet "Building the right audiences on Twitter isn't quick work, but if you do it right it's POWERFUL"]
Here you can use the various search functions within Twitter to find people. I love that you can use location here if your business is location-based. This is a great way of finding hashtags too. And while we're on the subject, finding hashtag chats for your industry is a great way of finding and engaging with the right people.
You can also use a good old Google Search for things like location and words in the Twitter bio (this is where your job titles come in). Copy and paste this search phrase into the search bar: intext:bio* [keyword] location* [city] site:twitter.com. You can also search for lists this way by using site:twitter.com "keyword" list. Searching for lists is key as all you have to do is subscribe to that list to find people to connect with.
Once you've found your audiences and started following them, you can group them into relevant lists and set up streams so it's easier to see what they're tweeting (I use Hootsuite, but you can do the same with Tweetdeck). For example, you may have a list called 'potential customers' (which you should make private of course).
Extra resources:
Check out this sneaky post on how to find and follow your competitors' followers.
How do I find my audiences when my work is very niche, and may well be abroad?
For starters, geography doesn't matter when you're connecting online; that's the beauty of the internet.
As above, you should start with finding influencers in that niche (because they're more likely to have the people you're looking for following them). Use Buzzsumo to find both content and influencers on the topic; see where they hang out and who is connected to them.
You can also check to see if they're a member of any LinkedIn Groups and ask to join, see which Twitter lists they're on and subscribe, if they're on Facebook, like their page and see who else is there that you could engage with.
It's a bit of a breadcrumb trail when it comes to finding people. Start with the influencers and follow their trail back to their various social profiles to see where the audiences you need to connect with are hanging out.
I'd also use good old search within all the social networks using your niche keywords to see what comes up, as well as searching things like hashtags.
Extra resources:
You can use tools like Technorati or Alltop to find anyone blogging within your niche, and follow their trail back to their social profiles.
If you want to go even deeper, explore these tools to help you find very niche influencers.
What about rooting out audiences for potential products, i.e. concepts that aren't quite "there" yet? In other words, how do you discover unknown markets?
First of all, examine what need the potential product or concept meets. What problem does it solve? Expand that as much as possible then use these key phrases to find people complaining about that specific problem.
You can use all of the search functions mentioned above to see what's been said before, and then follow the trail to the people asking about it. Look at where these conversations are happening, you'll need to be there. I'd also make a note of them. If you later launch the product, you have an audience right there ready for it.
I'd also think about those people who are experiencing the problem the new product or concept solves. Analyse them and then find where they are, again using the search functions I've listed above.
I'd just like to give a shout out to the lovely ladies who came up with these great questions – Tara O'Reilly, Adeline Garman and Rebecca Bradley.
I hope you've found these tips useful – for more of the good stuff, be sure to join my Facebook group, Simply Smart Social.
_____________________________________________________
Thanks for reading. If you have any comments, I'd love to hear from you in the comments box below. If you'd like to connect with me, my links are up there on the right. If you'd like to share this, thanks! The links for that are at the bottom of this post.
If you've not yet seen my brand, spanking new Social Media Strategy Workbook, you're in for a treat. I've been creating results driven social media strategies for clients for 8 years and I've honed this process into 10 clear steps that you can follow yourselves. If you're not getting the results you need from social media, this is for you.
To find out more, go here


...........................................




THINKING ABOUT WORKING WITH US? THEN CHECK OUT OUR LATEST OFFERS, FROM FREE TO HIGH-LEVEL SUPPORT.
For those conscious souls ready to step up and serve. Suitable for established or new coaches.
>> CHECK US OUT <<