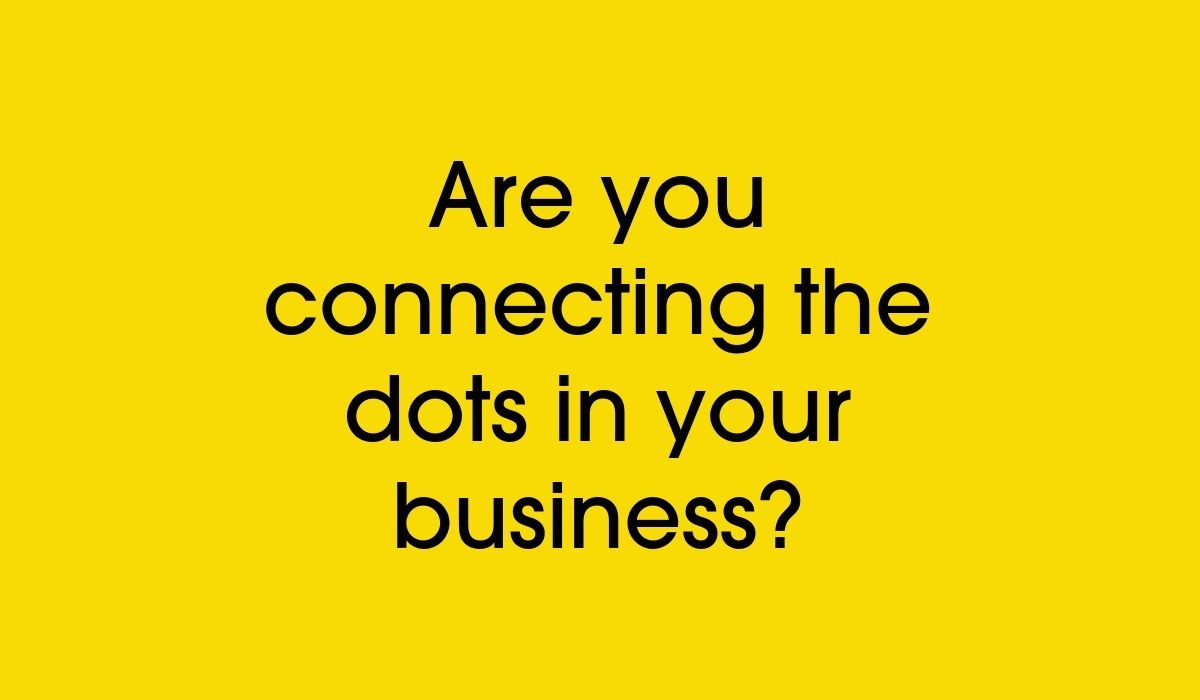 Do you work in pockets of isolated activities or have you connected the dots in your business?

Because if it's the former you're leaving money on the table.

Every marketing activity in your business should have a strategic plan to connect to the next thing, turning everything you're doing into one big funnel:

Every optin
Every blog
Every podcast episode
Every piece of content
Every launch
Everything

Each one taking your ideal paying client to the next part of the journey, each one deepening their understanding of you, each one connecting that little bit deeper.

Each one sharing your offers for those who are ready to invest in you because they need a solution to their problem now (these people are in a different purchasing lane to those who need more nurturing – but that's for another post).

For example, I see people launching without any upsell or downsell options. Which is a massive opportunity to launch stack. There are many people in a launch who either aren't ready or can't invest yet or they need a higher level option. But these guys have connected, they really like you and feel like you could be the solution for them.

So planning upsells and downsells as part of your launch can massively optimise the revenue it generates.

And this doesn't just stop with your marketing. Your products and services can do the same if you design an ascension model that starts with one, then naturally leads to the next level of support to increase lifetime customer value and retention.

Now this isn't about not giving the full solution in your products and services, we need to give as much as they need to get the solution they paid for.

It's also not about creating codependent customers who can't operate without us. It's about giving them what they need at each level to help solve their problem.

So for me, some are ready to invest in a half day strategy session, some are more suited to the support structure of my elevate mastermind, some want to invest in one to one and for some, each of those options are two big of an investment plus they're too advanced for what they need right now and my new low cost membership option, consistency club, is a better option.

But each can graduate to the next offer if that feels right for them.

By linking everything you do in your business and connecting the dots you leave less gaps and optimise revenue.

It can turn your whole business into one big joined up evergreen engine, automatically working behind the scenes while you focus on serving at your highest level, keeping those customers happy and providing the solutions they need.

I'll be digging more into this in Plan Your Breakthrough Business (PYBB), my free week-long coaching experience for those who already have consistent income but are struggling to breakthrough to the next level. Click here and join us if that sounds good, we start on the 9th September (right after the kids go back).



...........................................




When you're ready to take your Online Business to the next level, here's how we can help.

Join my Online Business Accelerator, Consistency Club, where we help you create consistent, recurring growth without burning out or selling out. Join us here.

If you're a business coach, life coach, mindset coach, spiritual coach, marketing mentor, social media strategist, online business manager, virtual assistant - or similar - who wants to serve clients at a higher level, then my Online Business Consultant Certification could be the perfect move. Read more here.

If investment is an issue at the moment, take my free class: How To Create Consistent Revenue Growth Every Single Month. Watch it here.